On Tuesday 15th March, I will be competing in the South Georgia Half Marathon. It's my first attempt at this distance and to make it a bigger challenge, I will be running across the mountainous South Georgian terrain.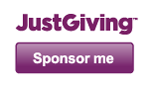 Since conservation and science is the reason that I'm in this amazing place, I have decided to raise money for the World Wide Fund for Nature (WWF).
To many, the distance may not seem that far. However, when you consider the terrain, the state of my knees, the lack of training and that there is a good chance it will be gale force wind and snow, I can easily see the event breaking me!
To give you an idea of the challenge ahead, last year's winner is a seasoned half marathon pro who frequently completes road ½ marathons in under 1hour 20. He managed an incredible time of 1hour 50, beating an ex-Commonwealth Games athlete. So for me, I would be incredibly chuffed to finish in one piece with a time of 2hr 30!
The marathon is predominantly run on loose scree slopes and boulders with small sections of upland bog, which doesn't make for easy running. Further to this, there is an increase of height of over 800m throughout the distance.
The WWF is a charity which all of you will have heard of. They fund research and conservation worldwide aimed at promoting sustainable living between people and nature. They aim to achieve this in a number of different ways: restoring wildlife; sustaining habitats; maintaining the world's great rivers; promoting sustainable timber and seafood, and reducing carbon emissions. They are a huge charity with world wide support, which enables them to influence political and economic decision-making.
I can only apologise about my late warning but I didn't realise I was running until now! It would be amazing if you could make a contribution, no matter how small! Just follow this link